Today, in stores and markets, you can buy almost any product all year round. But despite this, everyone has their own season, and some even have a specific month when they are most useful. In addition, in each season it is necessary to focus on those foods, vitamins and microelements of which we lack the most.
In winter, there are several seasonal foods that you can use to get the most out of your body. First of all, these products are mentioned to support your immunity, saturate the body with a large amount of protein and fatty acids, and add energy and good mood for this entire cold month. And in this article, you can find some very useful recipes, which include all the necessary products you have to eat in winter.
Winter pesto
The classic recipe with basil and pine nuts in winter can be revisited. Seasonal broccoli and walnuts will make the sauce as interesting as possible. And for the absence of parmesan, the waist will only be grateful!
What you need for it (for 4 persons);
120 g walnuts, roughly chopped
100 g broccoli, fresh
2 cloves of garlic
4 tbsp. l. olive oil
2 tbsp. l. boiled water
juice of 1 lemon
salt and freshly ground black pepper – pinch each
What to do:
1) In a blender, grind walnuts, garlic and broccoli. When the food is smooth, add lemon juice, water, oil and salt with pepper and beat again.
2) Try the sauce: if it is thick, dilute the mass with a spoonful of oil or lemon juice; if there are not enough spices, even out the taste with them.
3) Transfer the finished pesto to a glass jar with a screw cap and store in the refrigerator for no more than three days.
Winter greens salad
This recipe contains the main favorites of winter: greens, avocados, almonds. Unless you can add a boiled egg yourself if you feel the need for an additional dose of protein.
What ingredients you need (for 4 persons):
200 g of leafy greens (kale, spinach, romano)
70 g toasted almonds, crumbled
1 small fennel onion, chopped thinly
1 avocado, cut into half rings
For refueling:
75 ml extra virgin olive oil
1 large bunch of parsley
1 garlic clove, chopped
1/2 avocado, chopped
1 tsp liquid honey
A few fresh basil leaves (optional)
Juice of 1 lemon
Salt and ground black pepper – pinch each
What to do:
1) Put all the ingredients of the dressing in a blender and grind into a homogeneous mass. If the sauce is too thick, add a little oil or lemon juice.
2) Put the lettuce leaves in a large bowl, season with half of the sauce and mix very well.
3) Divide the salad into bowls, top each serving with fennel, avocado, nuts, and leftover dressing.
Eggplant snack
For lovers of the Mediterranean diet, a trio of eggplant, tomato, and parmesan is played today. This would become your favorite snack.
What you need for it: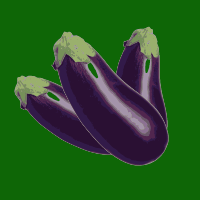 6 canned tomatoes, skinless, in their own juice
2 eggplants
2 tbsp. l. olive oil
1 tsp. dried basil
1/2 tsp. ground chili
Salt and black pepper to taste
Fresh basil and grated parmesan – for designing
What to do:
1) Cut each eggplant lengthwise into 4–6 slices, depending on the thickness of the vegetable. Dice the tomatoes and mix with the chili powder.
2) Preheat the oven to 180 ° C. Place the eggplant wedges in a baking dish, drizzle with olive oil, salt, pepper and dried basil and heat for 40 minutes.
3) Put the tomatoes on top of almost finished eggplants and leave in the oven for another 5-7 minutes.
4) Serve the appetizer on a platter, design with fresh basil and thin slices of Parmesan.
Brownie with chocolate glaze
Let's add some sweetness to our list, brownies which you can make not only in winter but at any time of the year. The recipe for chocolate brownies has been known in America since 1893. So for this amazing dessert, you need:
dark chocolate 180 g
butter 180 g
eggs 3 pcs.
flour 75 g
sugar 300 g
1/4 teaspoon salt
What to do:
1. Melt the chocolate with butter in a water bath or in a microwave oven. If using a microwave oven, heat the chocolate mass gently so as not to overheat the chocolate, otherwise, it may curl.

2. Beat eggs into a container. Add sugar and salt there. Mix eggs with salt and sugar until smooth and complete dissolution of sugar and salt.

3. Add the cooled chocolate-butter mixture to the egg mass, mix. Sift flour here and mix again until smooth.

4. Cover the baking dish with parchment and pour our dough into it. We put the form in an oven preheated to 175 ° C for 30-35 minutes.
And enjoy this delicious meal with your loved ones!